Stephanie is a Belgian painter who explores the emotions felt at different stages of a woman's life. Her work is an expression of her emotions. Desire, passion, love, resilience, rebirth… are all themes that are explored throughout her paintings.
Her creative world combines colors and textures in abstract compositions. She works mainly with acrylic, integrating natural materials in most of her paintings.
Stephanie works intensely with color in her art pieces, so I asked her 10 questions about color.
Enjoy the reading!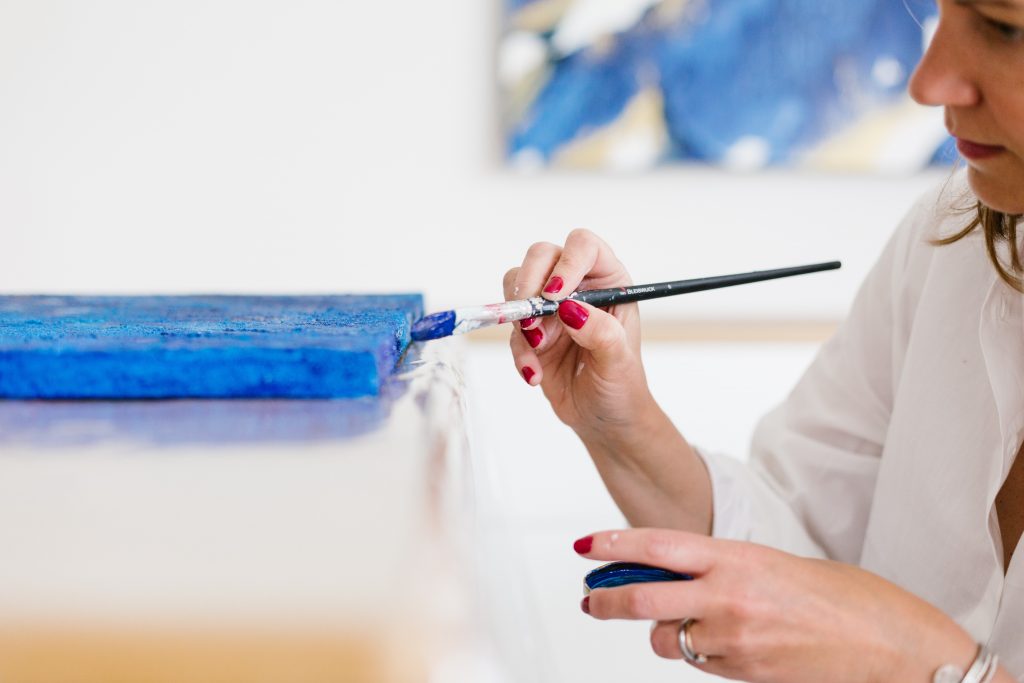 Welcome, Stephanie! Here are 10 questions for you:
How would you describe your style?
I would say poetic and colorful, sometimes minimalist and sleek. Always inspired by nature and emotions.
Why did you choose abstract as your creative signature style?
I would say that it is the abstract that imposed itself. A totally unexpected discovery. I only knew figurative art, the most faithful reproduction of reality possible. Abstract art was a mystery. It fascinated me but made me perplexed. Sometimes incomprehensible, out of reach. I never imagined that one day I would create abstract paintings. And then, one day. It took only a kind introduction. An initiation all in smoothness. A moment of a break in the middle of an emotional whirlwind. I needed to learn to let go, to let strong and violent emotions express themselves on canvas. Only the emotion guided the line, the choice of the color, and the textures. Very quickly, it became vital. No more need to cling to reality. I could liberate myself from reality and connect to pure emotion.
Abstract art evokes many emotions through color and composition. Can you share with us how you use color and composition to evoke emotion in your work?
I always start by working on the choice of my color palettes. I do research on the symbolism of colors. Often the colors to which I feel attracted reflect quite well the emotions I experience. Then I work on the color combinations. Sometimes I choose to work with only one color. At the same time, I choose to work with a texture or to leave the canvas raw. The composition is thought out before I start. And then, I let the emotion guide my gestures. In an intuitive way. And most of the time (there are sometimes failures), the result is aligned with the emotion that accompanied me throughout the creative process.
What are your favorite colors to use in your work, and is there a particular color you like to use?
I have always had a fascination with blues. The first blue I used was Prussian blue. It was the very first abstract painting I ever did. I also have a particular fondness for the ochre family. It reminds me of the warmth of the southern landscapes, the return to the earth. The anchoring I need. The importance of my roots, my family. My belonging to this earth, and my mission in life.
How do you start working on a piece? Do you plan ahead or is it more of an organic flow?
I always think about the composition of the canvas. A bit like a photographer who thinks about his framing before taking the picture. I choose my color palette and if I want to work with texture. Then I let the intuitive gestures take over. Then comes the work on the negative spaces, the finishing touches, and the work on the small details. I can spend several hours on this. Until I feel I have found the right harmony, the right balance.
Where do you get your inspiration?
In my daily life, my emotions. And nature. Everything that surrounds me. Organic forms fascinate me. The shape of a leaf. The drawing of the waves on the sand. I take pictures of everything that inspires me. And when I work on a canvas, I take inspiration from it.
Is there a work that you have created that has been a personal favorite and why?
"Phoenix", is one of the first paintings where I worked with ochre. It's a canvas that I worked on for a very long time. It was painted at a particularly difficult time in my life and when I finished it, I immediately recognized the Phoenix rising from its ashes. This painting is the symbol of my rebirth. A new life, after a painful transition. A new stage, surrounded by the people I love. A new project was coming to life. When I look at this painting, I feel a lot of emotions because I know today the path it represents. It has been kept in the family.
What is your relationship with your work once it is finished and leaves your studio?
Often I have been able to live with them for a while and I am sometimes a little sad to see them go. But I am also always very happy to see that they have touched other people to the point of wanting to have them in their homes. It is sometimes moving. We exchange. And the sharing of emotions is often part of it.
As a parent, how do you share the love of art with your children?
My studio is in their living space. I always share my latest creations with them. Sometimes we talk about it. Sometimes they give me feedback. They can also use my studio for their own creations. I never impose on them, they ask spontaneously. I love to see them working with paint.
What are you currently working on?
I'm working on a series I call "something blue". I am working on the intensity of the blues. The superimposition of organic forms and pure lines. The negative spaces are worked and strengthen the composition. A series under the sign of the softness and the appeasement.
Thank you very much Stéphanie for this colorful exchange!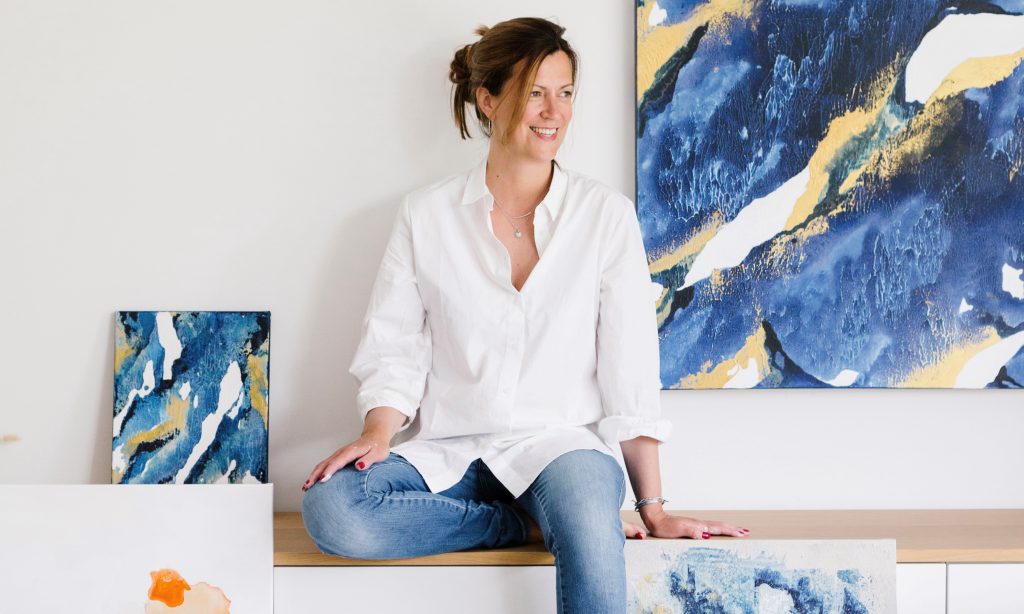 If you want to discover Stéphanie's creative world, take a look at her Instagram account! Click here.