A small splash of color in an unexpected place can have a disproportionate impact. It grabs our attention, focuses it, and creates an effect on its surroundings, making a mundane object or place feel more special. And when it is hidden, it gives the impression of having a happy secret, which we can rediscover again and again.
It is an easy way to take a big risk with color, as it only requires small doses of a shade. If you are not confident in color yet or are afraid to commit to a particular shade, you don't have to worry, because it's pretty easy to change this little experiment if you don't like the result.
You can also think about a colorful frame for your artwork, a bright color can create an even more magnetic impression.
You can hide a color behind doors or in drawers. This approach uses the "hide and reveals" mechanism to create a joyful surprise. This can create an explosion of joy when you open the closet and remind yourself that it is there!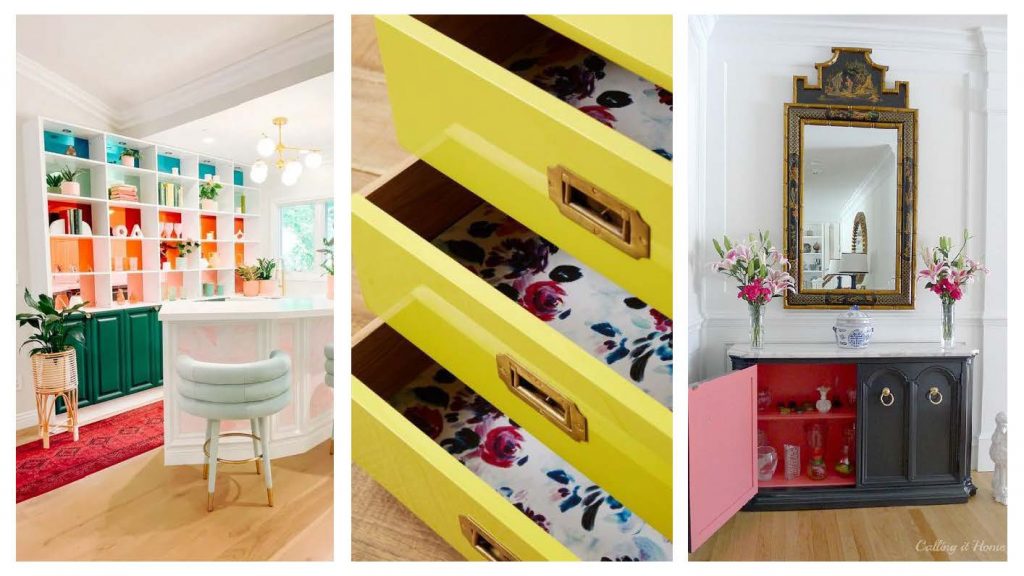 Colorful tiles are also joyful elements you can bring into your home.
Another approach? Colored grout. It is not as intense as colored tile, but it creates a subtle pattern that's a bit like millimeter paper.
Another easy way to give a room some boost is to paint the moldings.
If your woodwork doesn't lend itself to this option, you can also try painting a windowsill or door frame, to draw attention to an often-overlooked area. This is a great way to effectively create a border where there is none, helping to define a space.
Also, consider painting your ceilings. Typically, we paint our walls and leave our ceilings in a boring white, perhaps because of the conventional wisdom that white makes ceilings look higher. But a splash of color on the ceiling draws our attention upward, changing our perspective on a room. It is an inexpensive way to draw attention to important architectural features, such as beams or moldings, or to add interest if your space doesn't have those features.