This week I'd like to introduce you to British artist Rose Fulbright.
Founded in 2014, Rose Fulbright is a recognized brand that creates collections of high-end handcrafted products, ranging from patterned designs to custom-painted interior projects.
I had the chance to work for Rose as a stylist during a photo shoot for her new product launch.
That's how the opportunity to ask her about her work came up. Therefore, I had the pleasure of asking her 11 questions about color, art, and her work.
Enjoy the reading!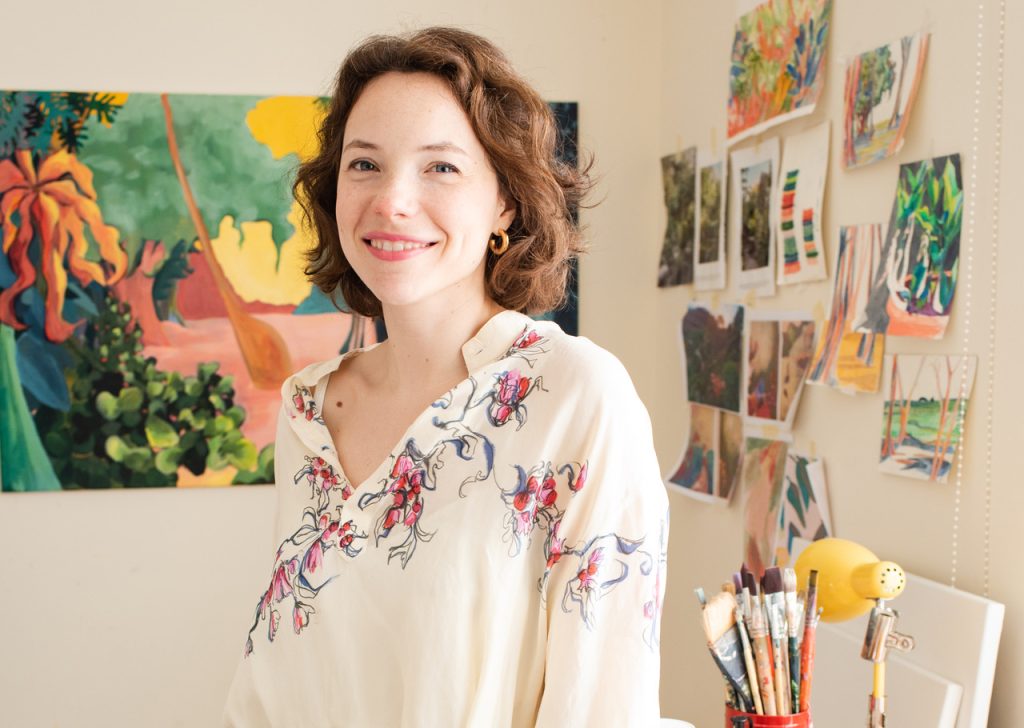 Welcome, Rose! Here are 11 questions for you:
How would you describe your art?
With my art, I am trying to share a sense of joy, and possibility, as well as the happiness and pleasure of colour. I would therefore describe what I do as unapologetically pleasing, vibrant, and energetic applied arts spanning paintings and furniture, as well as fashion.
How do you start working on a piece? Do you plan ahead or is it more of an organic flow?
Usually, I work in "collections" – a concept that starts to evolve in my mind following a group of experiences- for The Fauvist Jungle this was a sudden interest in and need for wilder paintings using bold colours, that combined with a family trip to Malaysia. The two themes combined with an urge to work in 3 dimensions and the furniture pieces were conceived. Once I have the initial concepts, I have a loose idea of how I want the collection to come together, but time is often my biggest restriction as to how much I can stick to the plan.
Where do you get your inspiration?
I think I have answered that above! Anything can inspire – from a concept, a philosophy, travel, other artists' work, nature, seasons, and people.
Is there a work that you have created that has been a personal favorite and why?
The first painting I made for this collection, called Fauvist Jungle, which is here this painting was the first, fairly unplanned outburst of expression on a large scale. When I was making it, I felt a sense of utter freedom and happiness, energy, and creativity, which made me realise I need to make art to feel this again and again.
How did your childhood influence what you have become?
I have a family heritage steeped in creativity and the arts and was brought up by a marine biologist/artist, and an anthropologist/writer. My grandparents started Portmeirion Pottery, now the Uk's largest ceramics brand, and my great-grandfather was a renowned architect (of Portmeirion Village in Wales) for which he was knighted for services to architecture. Before those, there are links further back to Charles Rennie Mackintosh and the infamous Bloomsbury Set. So, you can see I was brought up in an environment that utterly encouraged and revered art and objects, the importance of beauty in the every day, and the love for all things decorative.
What drives you and your work?
Communication – there is such a sense of fulfillment when I feel I've made something honest enough that another person feels something from seeing the work without us even speaking.
Can you talk a little more about what the colors mean to you personally? Are they trend-driven or more intuitive?
I am vaguely aware of trends, and I think there is always something in the air that I follow, but subconsciously, without actively trying to be "on trend" – I am trying to produce new, yet classic works which will never go "out of style", and my use of colour is completely intuitive. The fact that I am drawn to bold, clear, and beautiful colours I think stems from my childhood spent in and around Portmeirion, as well as the home I grew up in – for example when I was about 11, we visited Monet's house at Giverny, after which my father painted our sitting room bright yellow!
What are your favorite colors to use in your work, and is there a particular color you like to use?
I wouldn't say there is one specific colour I always use. I love deep marine blues and shell pinks, which you can see in The Fauvist Jungle collection, but what I love most about colour is the endless possibilities of discovering new shades and combinations, simply by mixing a palette. I'm always open to a new "favourite"!
What is your relationship with your work once it is finished and leaves your studio?
There is a sense that once I have expressed something I wanted to say, to the best of my ability, I am done with it. I am very much a person who likes to move forward, always looking to the next exciting idea and project. I love the thought of pieces that I have made, loved, and nurtured, that will go out into the world and pass their magic on to other people to make meaningful memories.
What are you currently working on?
I have just launched my first art and interiors collection, The Fauvist Jungle, and I'm creating more works around that to go to my new gallery in Surrey, for their summer show. I also have some jungle commissions to get on with before my family and I leave for a 2-month sabbatical before we move back to London at the end of summer. I already have ideas for my next collection, which will be another collection of paintings, functional art objects, and home furnishings, to launch next Spring.
What piece of advice would you give to someone starting out in a creative field?
I think striving to be honest and genuine in what you really want to say with your work is key. I have gradually formed the opinion that the best and most enduring artworks, whether they are paintings, music, books, or dance, always say something completely honest and vulnerable that makes others feel a connection and fall in love with them. Never follow trends and make what your heart needs to make!
Thank you very much Rose for this great chat and enrichment!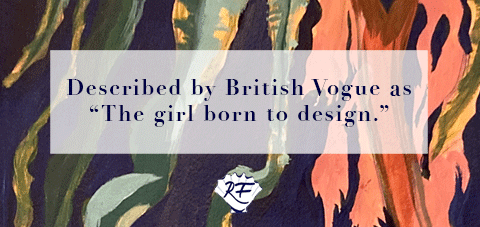 Would you like to know more about Rose Fulbright?
Click here to find out more.